Plastics improve quality of life. Those of us in the plastics industry see this every day. Just the same, from time to time, it helps, in any line of work, to pause and test the prevailing winds. Plastics are our world. And no substitute exists for having a sense of what one's world holds. In a fast-changing realm like the plastics industry, staying abreast of change means everything.
 
We want to help our customers and others interested in this viable, versatile niche of plastics, polymers, resins, and the like. Accordingly, we have researched many weeks' worth of trends, announcements, and notices from important players in our field. 
We serve up some highlights in a three-part series intended to cover the latest developments in our world. And not just recent developments, but projections for the next 5, 10, and even 15 years.
Plastics and the Circular Economy
The good news? Growth prospects loom. When the topic turns to bioplastics and other new-wave offerings, growth appears exponential already. But even in the field of conventional petrochemical plastics, growth cannot be denied.
The buzzword today? "Circular Economy." We encountered that term frequently when we conducted our search. It seems that the corporate world keeps putting its weight behind this goal. Recyclable, or sustainable, offerings dominate the news in plastics coverage.


Petro Products: Touted Less
Meanwhile, when it comes to products announcements or market assessments of the traditional (petrochemical) plastics world, companies show reticence. But that doesn't necessarily mean they aren't aggressively active on that front. It may instead mean that petrochemical-based plastics do not enjoy the same vogue as their bio-based competitors. Therefore companies simply do not wish to tout them—not in 2022, anyway.
A Feb. 3 article on OilPrice.com by reporter Felicity Bradstock holds that "Plastics Will Fuel Oil Demand for Years to Come." Bradstock observed that as the demand for petrochemicals increases worldwide, energy firms have a fallback. 
If oil demand in some sectors wanes there still exists a use for their 'black gold.'" That use? Plastics.
Petrochemicals Hold Promise 
"When we think about oil, we often think about it as an energy source, giving little consideration to the other ways in which it's used," Bradstock wrote. "But much of the oil from around the world actually goes into producing everyday products. These products include clothing, tires, digital devices, packaging, detergents, and fertilizers. 
In 2018, petrochemical feedstock accounted for around 12 percent of global oil demand. This figure will increase substantially over the next few decades. Experts expect 10 million metric tons of growth in the petrochemicals industry every year between now and 2050." 
A March 3 report from Valuates Reports finds that the market for extruded plastics will see growth. They predict a Cumulative Annual Growth Rate (CAGR) of 4.6 percent between now and the year 2030. This niche currently carries a value of $186 billion, but by 2030 will weigh in at $289 billion. 
As the article stated, "The
extruded plastics market
 is segmented by material type (polyethylene, polypropylene, polyvinyl chloride, polystyrene, and other polymers). As well as by application (pipes and tubing, wire insulation, window and door profiles, films, and other types). And by end use (building and construction, packaging, automotive, industrial, and other types)." Researchers assessed all these submarkets. 
Increased packaging industry application and demand, as well as construction activities, will drive the extruded plastics market growth.
Plastics Injection Molding to Follow Suit
The global injection molding market size will reach $398 billion by 2030, according to a March 30 report by Grand View Research, Inc. They expect the market to expand at a CAGR of 4.8 percent (slightly higher than the growth quotient for extruded plastics) from 2022 to 2030. 
The market remains driven by the rising demand for injection-molded components from various end-user industries. These offer cost-effective and efficient methods for manufacturing high-volume production of parts and products.
This market witnessed growth especially from the medical industry, with the emergence of the COVID-19 pandemic, as plastics offer offer accuracy, a high range of operation, repeatability, and cleanliness. Furthermore, packaging manufacturers leverage injection molding with robotics to run faster production rates with cost-effectiveness.
The market has witnessed a surge in adoption in recent years. The manufacturing technology employed for producing complex products made the difference. Players incorporate industry 4.0 in their process, thereby optimizing the requirement of raw materials, lowering costs, and increasing automation and flexibility.
The COVID-19 pandemic caused supply chain disruptions in 2020-21. That meant losses for the service providers as demand from various end-user industries was halted. 
Resins to the Rescue
The demand for plastic injection molding is witnessing significant growth due to high tensile strength and high-temperature endurance. These factors led to the increased usage of engineering-grade plastic resins for molded products. Moreover, plastic resins enable a reduction in manufacturing waste, product weight, and overall manufacturing costs. 
Companies providing molding services acquire the latest technologies to meet the changing demands from the medical industries and increase manufacturing capacity. 
Plastics Recycling Will Only Get Bigger
According to a recent market research report published by P&S Intelligence, the recycled plastic market value will increase. Observers say it will grow to $124 billion by 2030 from an estimated $59 billion in 2021. That rate amounts to a CAGR of 8.5 percent. In recent years, a number of companies started to collect plastic waste and recycle it into reusable resins and fibers. 
These companies include MBA Polymers Inc., Vikoz Enterprises Inc., Phoenix Technologies International LLC, and Terracycle U.S. Inc. Also DS Smith Plc, KW Plastics, PETCO, Custom Polymers Inc., and Waste Connections, Inc.
As P&S observes, "In the coming years, the value of recycled packaging plastic sales will grow at a healthy rate [because single use design dominates the market for packaging at present]. 


With the rising demand for packaged consumer goods, the plastic packaging sector keeps growing, as does the amount of waste plastic. Additionally, governments in several countries implemented rules that seek to curb the volume of plastic waste –  waste that can't be recycled."
In the coming years, Europe will see the highest market CAGR, as that continent fulfills on to reduce its plastic waste. As per Plastics Europe, 35 percent of the plastic waste collected in Europe went to recycling centers. 
Moreover, China, once the major importer of such waste, banned the inflow of certain kinds of plastic waste in 2017. That came under its National Sword Policy, which made it imperative for the waste to be reprocessed at the source itself.
Plastics Recycling Technology Takes Another Step
Honeywell announced earlier this year its intent to form a joint venture with Avangard Innovative to build an advanced recycling plant in Texas. The facility will use 
Honeywell's recently announced UpCycle Process Technology
 to transform end-of-life plastic waste into recycled polymer feedstock. Such feedstock goes toward creating new plastics.
Honeywell's new 
UpCycle Process Technology
 reduces the need for fossil feeds in the creation of virgin plastics. Honeywell seeks to enable a circular economy for plastics.
Avangard Innovative, the largest plastics recycler in the Americas, becomes the first to deploy the UpCycle Process Technology in the United States. Honeywell and Avangard intend to form a joint venture to co-own and operate a facility within Avangard's NaturaPCR complex in Waller, Texas. 
The planned advanced recycling plant will transform 30,000 metric tons of mixed waste plastics into Honeywell Recycled Polymer Feedstock per year. Production begins in 2023. 
Making the Plastics Switch
Early in 2021, a Dallas-based start-up company raised some $3.25 million to revolutionize the food-packaging industry. They aim to develop high-quality, biodegradable plastic alternatives. The funds should help them expand their product offerings and develop their supply chain infrastructure. 
PlantSwitch was founded two years ago by Dillon Baxter and Maxime Blandin, both graduates of Southern Methodist University (SMU), founded PlantSwitch two years ago. Alums of the SMU men's golf team, they strive to offer\single-use biodegradable solutions. PlantSwitch will produce products that function like traditional plastic, and at an affordable price.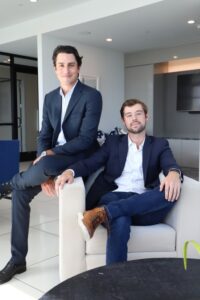 PlantSwitch first launched as a supplier of biodegradable straws and cutlery. Now they plan to introduce numerous other renewable packaging products. These include cups, plates, water bottles, food takeout containers, and cosmetic and CPG packaging products. 
The company also has the capacity to create custom products for large-scale clients. Notable customers include Hillstone Restaurant Group, Pressed, Discovery Land Company, Catch Hospitality Group, Just Salad and The Hampton Social, among others.
Green Packaging Market to Grow as Well
A recent report published by Allied Market Research asserts that green packaging will grow significantly. Globally, the CAGR should track at 6.6 percent between 2022 and 2031. As recently as 2020, this market commanded some $164 billion in business. By 2031, the market will reach $338 billion.
The global green packaging market stands to rise due to two factors. One, r
ising awareness among consumers about green packaging techniques. And two, a surge in environmental concerns leading to sustainable packaging developments.  
Based on application, the food and beverages segment held the highest market share in 2020. As such, it accounted for around three-fifths of the global green packaging market. Food and beverages will maintain leadership status throughout the forecast period. Observers credit growth in consumer awareness about health and the emergence of substitutes. 
However, the healthcare segment stands to chart the highest CAGR – 7.4 percent – from 2021 to 2030. Medicines can include complex chemical solutions. These can react with the harmful chemicals in some packaging material. Accordingly, the reaction can destroy the medicine composition. Thus, healthcare's green packaging niche has its work, and its market, cut out for it.
Even Watches Are Getting in on the Act
On April 5, 
Casio America, Inc
., announced the latest addition to its Pro Trek line of outdoor watches. The new 
PRW61
 is the first Casio watch to be made with biomass plastics sourced from renewable organic substances. 
Produced from regenerable resources, biomass plastics have much to commend them. They merit attention as a material that can reduce environmental impact by curbing carbon dioxide emissions.
As part of its focus on sustainable development goals, Casio pursues several environmentally friendly initiatives. One of these is a shift from plastic to recycled paper in packaging for the PRW61. Moving forward, Casio contributes to efforts to build a circular economy by expanding its use of sustainable materials in the design of other watch models.
According to a 2021 report by Markets & Markets, the market for biodegradable plastics will grow at a CAGR of 25 percent by 2026. Last year the niche stood at $7.7 billion.
The term "biodegradable plastics" means plastics that undergo biodegradation. (Biodegradation involves the action of naturally occurring micro-organisms such as bacteria, fungi, and algae). The biodegradable plastics market includes both bio-based biodegradable plastics and synthetic/petrochemical-based biodegradable plastics. 
The market enjoys growth across the world due to awareness and to stringent government regulations about non-biodegradable plastics. Producers choose biodegradable plastics for packaging, consumer goods, and textiles. They use them also for agriculture and horticulture, among other end-use industries.
PLA Matters
PLA accounts for the major share of the market in terms of value.
PLA Matters
PLA stands as the largest segment of the biodegradable plastics market. PLA finds use in various end-use industries such as packaging and bags and consumer goods. Made from renewable resources, PLA boasts features of being compostable as well as biodegradable. PLA comes from corn starch (in the United States and Canada), tapioca roots, chips, or starch (mostly in Asia), or sugarcane. 
This makes PLA non-toxic and an environmentally friendly material. The key applications of PLA include thermoformed products, namely drink cups, takeaway food trays, containers, and planter boxes. It has good rigidity and allows for replacement of polystyrene and PET in such applications. 
The rapid adoption of PLA arises from its economical advantages, compared to other biodegradable plastics.
Finally, to come full circle, we share another thought expressed on OilPrice.com, where writer Felicity Bradstock conveyed this caveat. "Researchers work hard to develop more sustainable petrochemical alternatives, such as bio-based plastics and specialty chemicals. [But] these products remain much more expensive than fossil fuel-derived products. 
Despite a huge recent drive to develop renewable energy alternatives, petrochemical-alternative production remains in its infancy. Oil and gas firms stand to benefit."
Read part 2 of this series:  Shifting Winds: Plastics Face Big Changes