Politics and public opinion go a long way toward steering any industry, and the plastics industry is no different. In the 2020s, the public's rising awareness of single-use plastics and their implications has brought dramatic changes. As we continue our series on "Plastics: What Lies Ahead?" we examine the changes wrought by the market's increasing aversion to single-use plastic products.
Clearly, the marketplace is rife with new offerings that stress bio-sourced plastics materials. But it is worth saying that some of this change is powered as much by public relations as by profit-mindedness. Yes, bio-plastics are big right now—bigger than ever. But their share of the plastics market still remains relatively small. Meanwhile, conventional plastics remain a booming industry and one that is not going away anytime soon.
Demand for petrochemical projects, particularly those focusing on plastics, is expected to increase substantially in the coming years, according to a recent article published on the news website OilPrice.com.
In a Feb. 3 article on OilPrice.com entitled "Plastics Will Fuel Oil demand for Years to Come," reporter Felicity Bradstock observed that, for all of the rush toward bio-plastics, there is still a huge and entrenched industry that is the petrochemical industrial world. And that world, seeing as it does that governments and some political interests are pushing for greater use of electric vehicles, realizes that its gasoline refinery prospects may indeed feel the pinch.
This being so, Big Oil looks to petrochemicals as a safe harbor in this storm. States Bradstock: "The International Energy Agency (IEA) predicts that plastics derived from fossil fuels will drive almost half of oil demand by 2050, as one of the last remaining sectors to decarbonize. Judith Enck, Founder and President of the nonprofit organization Beyond Plastics, believes "Plastics is the Plan B for the fossil fuel industry."
Meanwhile, recycling of plastic, reduction of plastic waste, and use and development of biodegradable plastic are active interests today.
A Plastics Innovation
"Thermoplastic resin" is the precise technical term for plastic, which is defined as a synthetic material that can be molded into any shape for actual use by high-temperature molding using a molding machine. To perform molding, the plastic needs to be in the form of a "resin pellet" with a size of 1-3 mm.
The production and use of biodegradable plastic is slowly increasing, although greater than 98 percent of plastics worldwide are still petroleum-based non-biodegradable plastics. In addition, the production of these petroleum-based non-biodegradable plastics are still increasing.
Biodegradable plastics can be composed of biomass such as corn, sugarcane, potato, and grains. However, as these commodities are also in demand for human consumption, alternatives, if they can be found, can pose a welcome remedy. Celluose, a non-edible biomass, can be a good alternative, although the preparation of cellulose-based resins with good properties requires the use of petroleum-based additives.
With this view, Dr. Ryohei Mori at Green Science Alliance has created a 100 percent natural biomass-based biodegradable thermoplastic material from wood, stone, and a natural deep eutectic solvent. Besides wood, stone, and the natural deep eutectic solvent, the as-prepared material was also composed of environment-friendly natural materials; hence, this material was composed of 100 percent natural materials—i.e., no petroleum. In addition, not only wood and stone but also all of the other composed materials were cost-effective.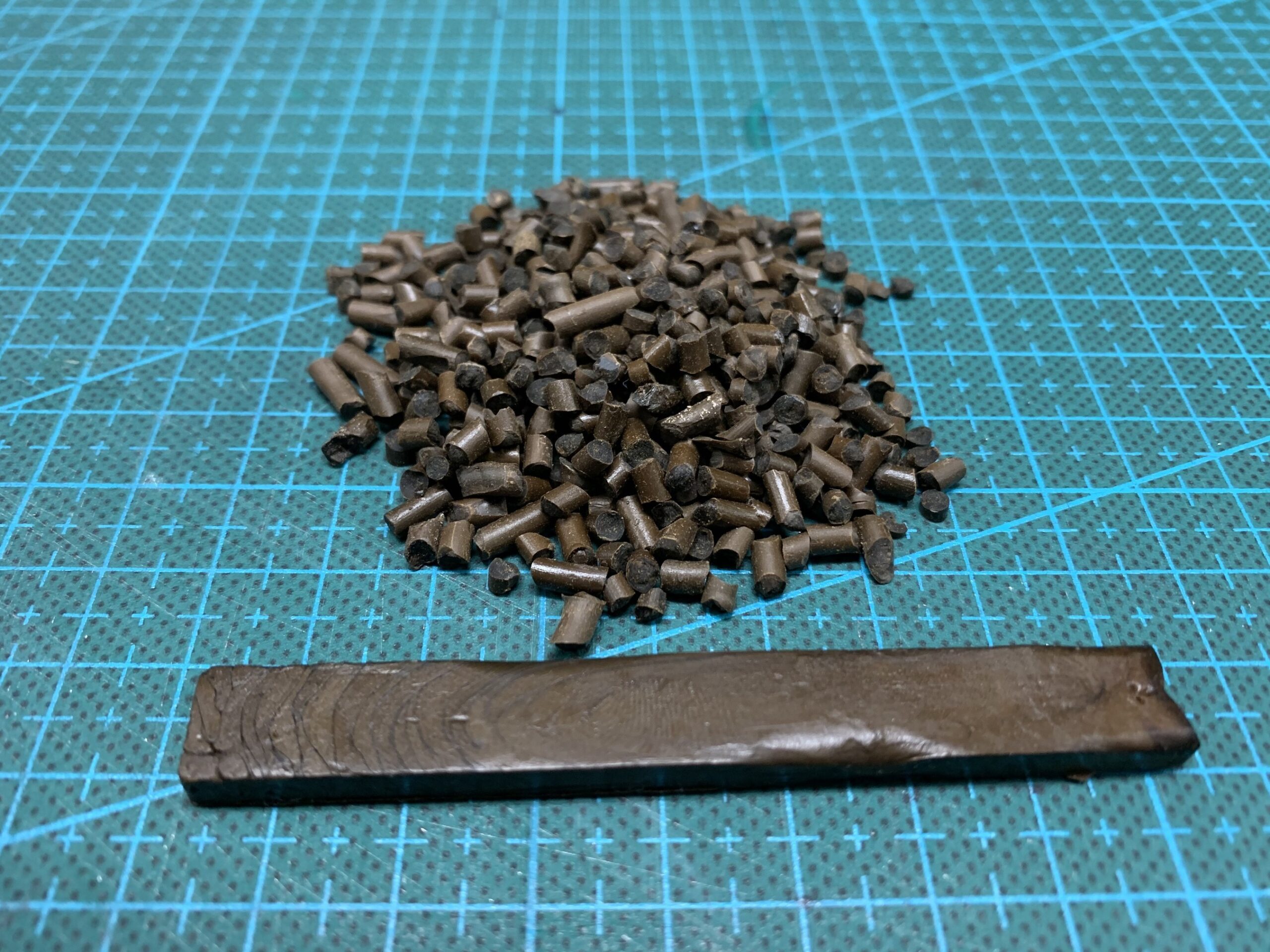 Analysis and further improvement of the resin properties of this novel and innovative material, as well as sample work for actual industrial use, are currently underway in Green Science Alliance.
Plastics are the Target
Target Corporation on March 9 announced Target Zero, a new initiative that responds to growing customer interest in products that help reduce waste. Customers will now see a Target Zero icon in stores and online that will signal products and packaging across Target's assortment designed to be refillable, reusable, or compostable, made from recycled content, or made from materials that reduce the use of plastic. Hundreds of new and existing products from customer-favorite brands across Target's Beauty, Personal Care, and Household Essentials categories will be among the first in the Target Zero collection, with plans to expand the assortment in the future.
"Target Zero unlocks important progress toward our Target Forward ambitions, each of which require collaboration from our partners and action from our guests to be realized," said Amanda Nusz, senior vice president of corporate responsibility and president of the Target Foundation, Target. "By making it easier for our guests to identify which products are designed to reduce waste, Target Zero helps them make informed decisions about what they purchase and advances a collective impact across our brand partners, our product shelves, and within our homes and communities."
The Target Zero icon will be seen by guests on shelves in-store, and through a dedicated online experience at target.com. Hundreds of products from brands, including Burt's Bees, PLUS, Pacifica, and more, are among the first to be featured. Additionally, select products from Grove Co. and Target's owned brand Everspring were to join the collection beginning in April.
Plastics Frontiers: Bio-Naphtha is Now a Thing, Too
Honeywell announced earlier this year that it has introduced a new solution for producing renewable naphtha for petrochemical production using the commercially proven Honeywell UOP Ecofining technology. The new pathway can produce high yield of naphtha from sustainable feedstocks like used cooking oil and animal fats.
Prior to the introduction of renewable naphtha solution, the UOP Ecofining technology has been used to produce predominantly Honeywell Green Diesel and Honeywell Green Jet fuel, with small amounts of bio-naphtha being produced as a secondary product. The same Ecofining technology can be adapted to produce high yields of renewable naphtha as its predominant product, reflecting the versatility of the Ecofining design and ability to produce a range of products based on market needs.
"We are actively engaged with customers to drive new technology adoption, as renewable petrochemical feedstocks have grown in interest as consumers prefer more bio-based products," said Ben Owens, vice president and general manager, Honeywell Sustainable Technology Solutions. "We see renewable naphtha produced from the UOP Ecofining process as a proven solution available today to help petrochemical producers reduce the carbon footprint of their products compared to using petroleum-based feeds."
Enter the "Piranha"
Packaging continues to be a specialty where bio-sourced plastics are making big strides.
European thermoforming packaging specialist Waddington Europe, a division of Novolex, has introduced an innovative recyclable tray for meat, fish, and poultry products. The container, called Piranha, is sealed using a series of raised teeth that run around the sealing flange, instead of relying on a layer of polyethylene or adhesive, which in other applications is used to seal the lid of "modified atmosphere packaging" (MAP). The raised teeth maintain the seal's integrity even if the flange becomes contaminated by animal fat, which can interfere with closure on traditional packaging for meat, fish, and poultry products.
With Piranha, greasy contaminants are forced into the channels between the raised teeth, leaving the peaks clear and clean to contact the PET top web. As a mono-material package, the tray is capable of being fully recycled. To learn more about Waddington Europe and its packaging solutions, visit www.waddingtoneurope.com.
Polyethylene Sees Growth Ahead
The global market for polyethylene is estimated to be worth $123 billion currently and is forecast to reach the $142 billion mark by by 2028, charting a Cumulative Annual Growth Rate (CAGR) of 2.5 percent along the way. Polyethylene's increasing use in various end-user applications such as packaging, consumer goods, and construction materials is expected to fuel the market's growth.
Furthermore, features of polyethylene, such as its qualities of being highly adaptable, extremely lightweight, and economical, as well as its excellent rigidity, superior flexibility, and easily recyclabilityare expected to propel PE adoption. In addition, as researchers are finding, the introduction and development of bio-based and biodegradable polyethylene will almost certainly create new growth opportunities for the polyethylene market.
Looking Ahead
And, again, let's not forget that conventional, oil-and-gas based plastics are still in the picture, and in a big way.
As Bradstock (cited earlier) writes, "Plastics are commonplace in the developed world, with governments now planning to curb the use of certain products such as single-use plastics. But as energy firms invest in expanding their petrochemicals business, many are aiming their products at the Asian and African markets, where they expect demand to continue increasing. Most of these plastics are currently being produced in the United States and the Middle East, with China being the biggest importer."
Read part 3 of this series:  Polymers and Other Plastics: Times of Transition